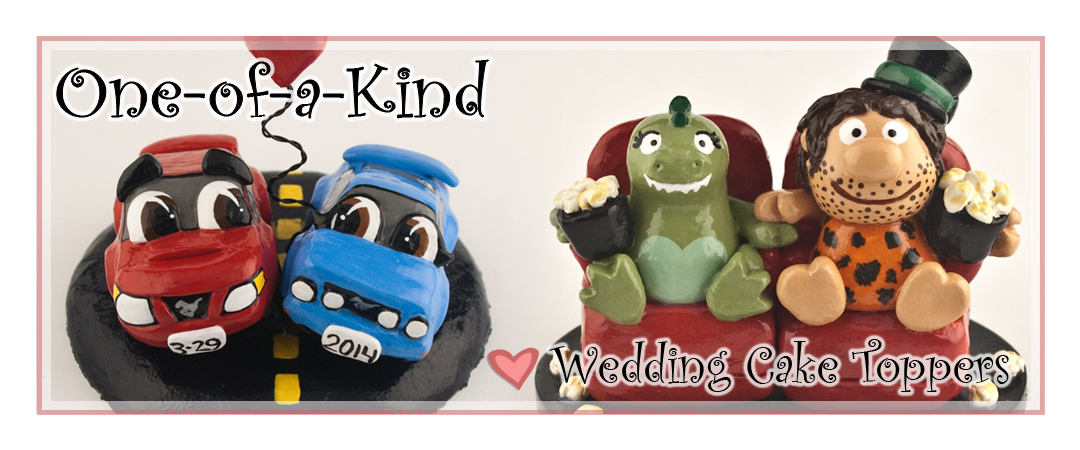 A Wedding Cake Topper As Unique As You!
Your wedding is a celebration of the two of you. You've designed your wedding around your personalities and it speaks to how unique you are as a couple. Your wedding cake topper should do the same thing, celebrate you as a couple. Not only will it add something unique to your special day, it will make a wonderful keepsake for the rest of your lives together.
Whether you have a wedding, a birthday, an anniversary, a new baby or another special event, you can celebrate in a unique way, with an original handmade cake topper for your special day! Do you want something that's unique and totally you? I'll help you create a custom keepsake that speaks to your individual personality.
I specialize in wedding cake toppers, but I can create anything you can dream up! I am located in Saskatoon, Saskatchewan, Canada, but I ship world wide! I have sent my cake toppers all over Canada, USA, Australia, UK, Ireland and Belgium!
Holly Edwards is wonderful and incredibly talented. My bride and I work at the Natural History Museum of LA County. We had heard about T.rex cake toppers online: I found a few that were not up to par, and then I saw Holly's realistic T.rex cake toppers from My Custom Cake Topper. The detail is fantastic, and we were relieved to see that they each had two fingers on each hand. Many times we see T.rex toys and pictures of T.rex with an inaccurate amount of fingers, so we were very excited to see Holly's beautiful models with the correct number of fingers. Great start, but then it got better: my wife did not want me to see her dress until she walked down the aisle, so Holly and her coordinated the details of the dress the bride T.rex was wearing privately. Holly also colored the female T.rex to be in the same palate as the wedding colors. She would send a sample and gave my wife the option to ask for a different shade. As a bonus, she gave me the option of having a removable top hat for the groom T.rex. (Since I wasn't wearing a top hat at the wedding, but the top hat looked awesome in the pictures of the T.rex, she designed it so it could fit or be taken off). Holly worked out the logistics so we received it weeks before the wedding: this is quite a relief to have one less thing on the Wedding "To Do" list. The cake topper was so popular with our guests. We had it displayed throughout the reception and many stopped to take pictures of it. It was so much fun to watch people from a distance thrill at the cake topper. Holly is wonderful to work with and has a great eye for detail. Thank you, Holly, for our beautiful two-fingered T.rex cake toppers!
Brian
"Holly of "My Custom Cake Toppers" has earned my highest regards for her professionalism and craftsmanship. I had ordered a custom wedding cake topper of myself (the bride), my husband (the groom) and our puppy … Holly was always prompt and kind in her correspondence with me, and when I received the final product, I was astounded at her attention to detail and articulation of her work! It was the perfect topper–concise to the pictures and descriptions I had provided Holly–and was adored by us and our guests! Thank you so much Holly for the this timeless keepsake–we love it!"
Kayle
After weeks of looking for a custom cake topper, I found MyCustomCakeTopper. We provided pictures so that it was custom, and Holly provided her amazing attention to detail (and customer service!) that made it absolutely perfect. I can't put into words how ecstatic I was to receive the final product – I am so excited to show it off to our friends and family. Casey
This cake topper is the perfect addition to our wedding day. It is really meaningful to my fiancé and I. We are so thrilled with the craftsmanship and quality! Holly was great to deal with and I would highly recommend her work to anyone looking for a really special and unique cake topper. Beautiful!! THANK YOU!! Karen
Working with Holly was a wonderful experience. Everything was done with such artistry and perfection. I look forward to working with her again. We love our dragons! Andy